Improvement of the treatment programmes in correctional institutions penitentiary institutions and correctional-educational institutions
On August 31, 2020 the Ambassador of the Federal Republic of Germany to the Republic of North Macedonia, Anke Holstein, together with Ms Masha Bubanj from the organization "Help – Hilfe zur Selbsthilfe" handed over a donation funded by the Federal Government, for implementation of protection measures against Covid-19 to the Directorate for Execution of Sanctions in the Ministry of Justice, Mr Jovica Stojanovic.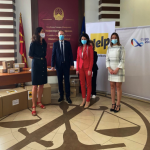 The donation is provided for Penitentiary Idrizovo, Penitentiary Prison Ohrid, VPD Tetovo and Penitentiary Shtip, and is part of the cooperation between the organization "Help" and the Administration for Execution of Sanctions and the Macedonian Society of Penology within the regional project "Improvement of the treatment programs in correctional institutions".
The donation consists of 4,126 FFP2 protective masks as well as 30 communication devices and has a total value of 21,996 euros.
The news of the donation in the media
https://a1on.mk/macedonia/germanija-donira-maski-za-makedonskite-zatvorenici/ 
https://mia.mk/donaci-a-od-germani-a-za-upravata-za-izvrshuva-e-na-sankcii 
https://plusinfo.mk/germanska-donaci-a-na-maski-za-upravata-za-izvrshuva-e-na-sank
https://kanal5.com.mk/donacija-za-upravata-za-izvrshuvanje-na-sankcii-za-spravuvanje-so-kovid-19/a436883